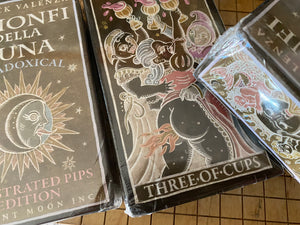 PARADOXICAL Trionfi Della Luna Illustrated BUMPED or Schmumped
Trionfi Della Luna Illustrated Pips
PARADOXICAL Edition
Bumped Corner Special!
So it's time to offer all of our bumped decks!
Many of the decks we received had mashed corners, unfortunately! Regardless of this cosmetic damage, the cards inside are unfazed and in perfect condition!
If you don't mind the box damage, have we got a nice deal for you!
Save $10! 
Bumps and Schmumps on box corners vary-Pristine cards inside!
---
We Also Recommend
---