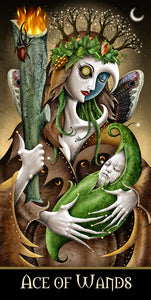 #57 ACE of WANDS HQ Giclee/Print
The Willowy Angel
"Let the Ace of Wands be your muse, for she will give you an unprecedented surge of creative inspiration. With her guidance, bold new ideas will grow from your mind and branch out in every direction possible. Be sure to take action on them now while your enthusiasm is high! Like a blazing fire, it will be difficult to contain your red-hot thoughts. Do not be surprised if it gets hectic managing the many blessings of your fertile imagination."
Superior Quality Giclees printed under the highest museum standards.
Printed with non-fading pigmented inks on sturdy acid free cotton papers.
(*Highest quality Tarot Prints on the market!)
Each print signed by creator Patrick Valenza.
Medium Signed Giclee 9x13 inches $75
GIANT Signed Giclee 13x19 inches $120
*Prints shipped in very strong flat boxes
---
We Also Recommend
---