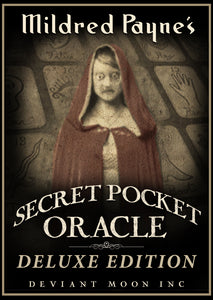 Mildred's Secret Pocket Oracle DELUXE 2020 Edition!

Have you heard the bewitching tale of
Mildred 

"The Red Witch"

 

Payne?
In 2017, Asylum workers discovered an old hospital gown hidden inside a wall.

"MILDRED"

 

was written on the inside collar.
Upon further examination of the garment, the workers were surprised to find a tiny pocket sewn into the underside, containing a crude yet
mysterious handmade set of oracle cards.
NEW for 2020!
As requested, Mildred's world-famous Pocket Oracle has been SUPERSIZED!
Bigger Cards=Bigger Readings!
You won't believe your EYES!
Updated playing card size measures 6.4cm x 8.9cm (2.5" x 3.5")
...................................................
Click here for the SÉANCE EDITION!
Young Mildred is thought to have created her childlike yet fascinating oracle circa 1928 while a patient at Fenwood Asylum.
*(Her father committed her into the facility, believing her to be insane for talking with imaginary friends.)
While at Fenwood, Mildred never stopped contacting her "friends" with her handmade oracle.
*(Fellow inmates called her "Millie the Red Witch")
Mildred kept her tiny deck hidden from authorities in a secret pocket.
*(Although her fate is unknown to this day, some think Mildred perished in the Great Asylum Fire of 1933. Others are convinced she started the blaze!)
---
We Also Recommend
---